Mark W. Ericsson D.M.D.
Recipient of The Edward R Hart Award for "The Highest Performance in Restorative Dentistry", Washington University

Recipient of The Richard Bengal Acknowledgement Award "for Excellence in Crown and Bridge", Washington University

Recipient of The American Association of Endodontists Award, Washington University
I have been passionately practicing Dentistry in Boca Raton for over 30 years. Because of the complexity and required accuracy in the delivery of Dental Services, Dental Practice has an endless learning curve. For this reason, I consider experience to be a key element of any successful dental practice. We at Ericsson Dental are constantly improving and refining the services we provide to our patients. During my tenure as a Dentist In Boca Raton, I have treated in excess of 30,000 patients. Some of my closest patients have been people I met on a Dental Emergency basis. My patients are very special to me and it is common for me to give my patients my personal cell phone so they can call me whenever they are in need. We always strive run to an Empathetic Dental Practice in which we try to anticipate and serve our patient's needs. Ericsson Dental offers a full range of Dental Services in Boca Raton.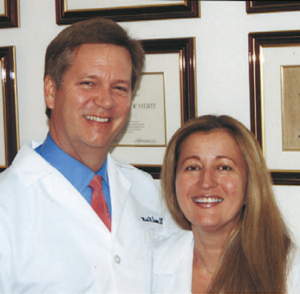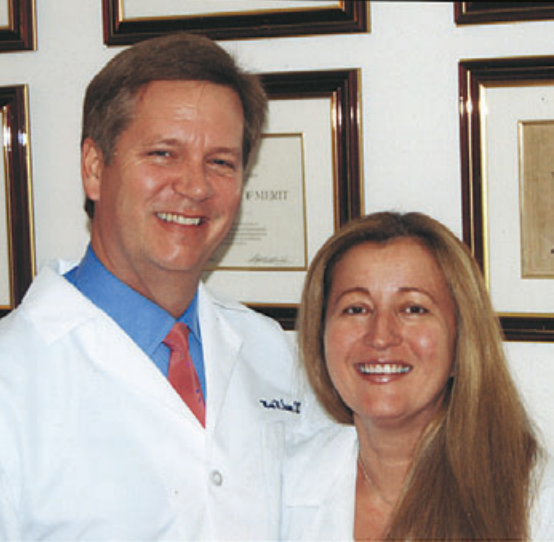 Ericsson Dental Services
Fixed Prosthodontics (Crowns, Bridges)

Complete Implant Prosthodontics

Complete Occlusal Evaluation and Treatment Services (Correction Of Bite).

Dental Implant Surgery

Endodontic Treatment (Root Canal Treatment)

Periodontal Surgery (Gum Surgery)

Oral Surgery (Extractions)

Removable Prosthodontics (Full and Partial Dentures).

Composite Fillings

Periodic Dental Cleanings (Dental Prophylaxis)

TMJ / TMD Treatment (Temporomandibular Joint Dysfunction).

Treatment and Diagnosis of Trigeminal Neuralgia

Treatment and Diagnosis of Migraine Headaches

Treatment and Diagnosis of Bell's Palsy

EMA Appliance Fabrication ( Treatment For Sleep Apnea & Snoring).

Night Guard Fabrication (Treatment Of Bruxism)

Teeth Whitening
Boca Raton Dental Office
Ericsson Dental is conveniently located in East Boca Raton on Federal Highway between Spanish River Blvd and Yamato Road in the Sanctuary Tower And Shoppes. We have tried to capture a warm yet professional feel in our office environment. Indirect lighting is used throughout the office reduce stress. Our operatories (treatment rooms) are very large by industry standards. Too many dental offices seek to "cram" as many operatories as possible into a given office. Also "Dental Office Designers" try to create as many rooms as possible to sell more dental equipment. I resisted and took control of that process. The result at Ericsson Dental, SPACIOUS AND COMFORTABLE TREATMENT ROOMS with 4K 65 INCH TELEVISIONS WITH "ON DEMAND CONTENT". At Ericsson Dental, We seek to remove the patient from the dental experience and put them at ease. In a further effort to accomplish this, ALL DENTAL INSTRUMENTS ARE KEPT BEHIND THE PATIENT.
Cosmetic Dentist Boca Raton
Cosmetic Dentistry is a fusion of Art and engineering. Patients all over the world seek to control and/or improve their physical appearance. Through exercise, weight management, plastic surgery, and last but not least Cosmetic Dentistry, patients seek change for improving their personal, social, and business lives. It is well understood and accepted in society that appearance matters. The effects of appearance and social acceptance on self esteem have far-reaching effects on the quality of the lives we live. Among the choices we have as humans to measurably impact our appearance, Cosmetic Dentistry offers one of the most immediate, predictable, durable, and significant results.
Cosmetic Dentist Procedures
Full Mouth Implant/Reconstructive Dentistry ("Complete Dental / Smile Makeover").
Limited Restorative and Esthetic Enhancements of existing dentition.
Whitening of existing dentition.
"Full Mouth Reconstruction" or commonly known a "Dental Makeover" as the names suggest, are the process of completely rebuilding a patient's mouth (SEE OUR "BEFORE AND AFTERS" PAGE FOR EXAMPLES). Throughout the United States, "Baby Boomers" are entering retirement. Many of these people have worked their entire lives and are trying to "turn back the clock" in any way possible. Cosmetic Dentistry can have a major, predictable, immediate, and durable impact on the quality of these patients lives. Many of these patients have been dissatisfied with the appearance of their teeth their entire lives. Many reach the decision to take action to and to make a meaningful improvement for their health and happiness. During the process of a Complete Dental Makeover, multiple criteria objectives are sought in achieving the final result.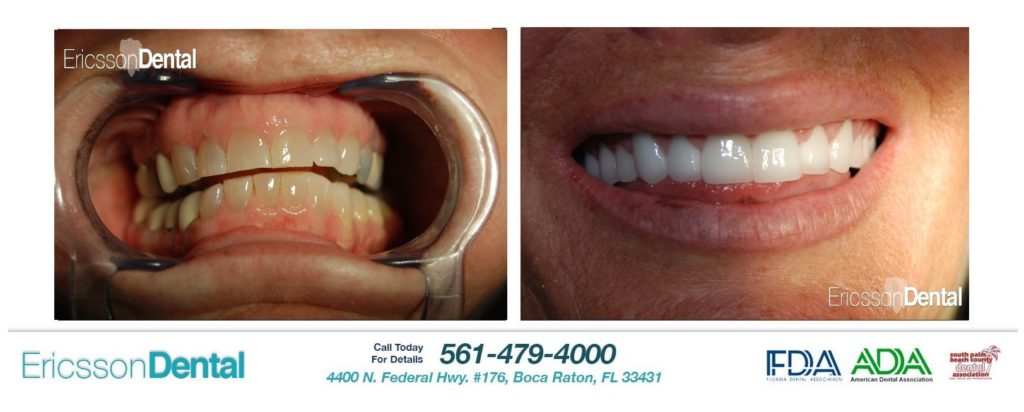 Complete Smile Makeover / Cosmetic Dentistry Major Criteria
Disease and Infection Free Mouth, Gums, and Teeth.

Proper Vertical Dimension Of Occlusion (Bite Height)

Proper "Curve Of Wilson" ( Lateral Plane Of teeth)

Proper "Curve Of Spee" (Anterior Posterior Plane Of Teeth)

Proper "Occlusal Plane" (Plane Of The Dentition Relative to the Human Skull)

Proper "Incisal Guidance" (Anterior Teeth Angulation)

Proper "Lateral Angular Occlusal Guidance" (Posterior Teeth Guidance)

Excellent Restoration Marginal Integrity (Accurate interface between any restoration and tooth).

Proper esthetic and functional length of the dentition.

Proper labial and lingual contour of the dentition (how "far out" the teeth are place towards the lips).

Accurate Crown adjustment and placement of restorations during cementation.

Accurate Occlusal Equilibration after cementation (accurate "Bite")

Fabrication Night Guard to preserve and maintain the case (Bite Plate).
The Boca Raton Complete Smile Makeover Process
(Full Mouth Dental Reconstruction In Boca Raton)
The Terms "Full Mouth Reconstruction" or "Complete Dental Makeover" sounds like a major undertaking. There is no doubt there is a lot of work involved. However, WE OFTEN COMPLETE OUR DENTAL MAKEOVER CASES IN AS FEW AS 4 APPOINTMENTS AND AS SOON AS 4 TO 5 WEEKS). Overwhelmingly our patients are satisfied with our value and results. Below is a step by step process of Full Mouth Reconstruction / Complete Dental Makeover.
Boca Raton Smile Makeover Appointment #1
Approximately 4 to 5 hours
Study Model Impressions Full Mouth Radiographic Studies.

Periodontal Evaluation (Supporting Bone And "Gums")

Periodontal Management/ Crown and Bridge Preparations Upper Arch

Elimination of Decay throughout the upper arch.

Extract Hopeless Teeth in Upper Arch where necessary.

Perform Endodontic Treatment where needed (Root Canal Treatment).

Construct Full Upper Arch Temporaries chairside incorporating new design metrics and features of final product.
Boca Raton Smile Makeover Appointment #2
Approximately 4 to 5 Hours
Periodontal Management/ Crown and Bridge Preparations Lower Arch.

Elimination of Decay throughout the lower Arch.

Extract Hopeless Teeth in Lower Arch where necessary.

Perform Endodontic Treatment in Lower Arch where necessary.

Construct Full Lower Arch Temporaries chairside incorporating new design features and metrics of final product.
Boca Raton Smile Makeover Appointment # 3
Approximately 4 to 5 Hours
Final Adjustments to Temporaries (Patient Feedback).

Impression of Final Temporaries for Lab Study.

Highly advanced CAD / CAM computer hardware and software overlays this information on computer generated "Upper and Lower Working Models" to aid in the design and ultimate fabrication of the final product.

Final preparation refinements.

Final impressions (static record of the prepared patient's mouth).

Bite Registrations (record of the Vertical Dimension Of Occlusion and the Centric Relationship Of the patient's upper and lower arch.

Take Face Bow Transfer Metrics. A Facebow is a device which accurately transfers the plane of the patient's mouth to the Dental Articulator ( a device which replicates the movements of the patient's mouth thereby enabling the lab to accurately fabricate the finals crowns).

Final shade selection.
Boca Raton Smile Makeover Appointment # 4
Approximately 4 to 5 Hours
Adjust and Cement Full Mouth Crowns. Final Crowns are constructed of "state of the art" hand laid fused porcelain to Zirconia Substrate (which is computer scanned and milled to extreme precision by the most advanced CAD/CAM equipment available). This combination yields maximum strength and optimum esthetics in a Non-Metallic Restoration.

Fabricate Night Guard.

Oral Hygiene instruction.

Camera Time !!!
Dental Implant, Restorative, And Esthetic Improvements To Existing Dentition
(Cosmetic Dentist Boca Raton)
Dental Restoration of the human dentition is taken very seriously at Ericsson Dental. We use only the finest materials and techniques so your teeth meet and exceed your expectations. After completion of a Crown or a Composite Filling often our patients will ask, "which one is it"? This is our goal. Our crowns are "state of the art" Porcelain Fused To ZIrconia Substrate Crowns. These are NON-METALLIC, HIGH STRENGTH, an HIGHLY ESTHETIC restorations make from the most highly advanced CAD/CAM equipment available today ("3 SHAPE IMAGING CAD" / "ROLAND CAM"). Custom Implant Abutments are fabricated by the highly regarded "SIMPLANT 3 SHAPE IMPLANT STUDIO". Filling materials and cements are carefully selected for best performance and durability. We deliver every restoration at Ericsson Dental as if it were our own.
Teeth Whitening In Boca Raton
(Cosmetic Dentist Service)
As part of our suite of Cosmetic Dentistry Services In Boca Raton, Ericsson Dental has been "Whitening Teeth" for 30 years. We have developed a highly effective suite of options for Tooth Whitening. We select the most highly effective and active agents to achieve optimal results. These agents are both Autocatalyzed and Arch Plasma (high power UV light) Catalyzed. This combination yields the most effective Teeth Whitening results available. We offer a Convenient and Affordable Teeth Whitening "take home" option and the more powerful "In Chair" option. We also combine these two techniques where appropriate.
Dental Implants In Full Mouth Dental Reconstruction
Dental Implants are modern day miracle. After years of steady improvement, Implants provide a predictable, dependable, and economical means of Tooth replacement. As with many orthopedic implants (Hip / Knee), Dental Implants are constructed with titanium. The general form of Dental Implants take the shape of a "screw". These Titanium screws are "Threaded" into the bone and left to "Integrate"" (attach) with the bone for 3-6 months. After the Implant(s) "Integrate", it is "uncovered" and "restored" with an "Abutment" (Post) and a Crown. Dental Implants are important integral part of many Full Mouth Reconstructive Cases. In cases where natural tooth abutments are inadequate for the projected treatment plan, Dental Implants can provide the necessary support for Dental Fixed Prosthodontics (Crowns and Bridges). We provide complete Implant Surgical Services at Ericsson Dental as part of our suite of Full Mouth Reconstructive Services.
Root Canals (Endodontics) In Full Mouth Reconstruction
In cases where the natural dentition is excessively worn or broken, Root Canals can be performed in cases where the Nerve Chamber within the Tooth is Violated. With Root Canal, such Teeth would need to be extracted. If completed properly, Root Canal treated Teeth have an excellent long term prognosis. At Ericsson Dental, all  Root Canals are completed on premises and concurrently within the scope of our Full Mouth Reconstruction Work. This approach makes the Oral Reconstructive Process more comfortable and time efficient. Often, we will perform multiple Root Canals in the scope of one or two appointments. Root Canal Treatments need not be an uncomfortable experience. To prevent patient discomfort in Endodontic Treatment, It is of crucial importance that the nerve chamber be fully opturated (cleaned) in the first appointment. This greatly reduces the incidence of post-operative discomfort following a Root Canal Treatment. At Ericsson Dental, we "strategically administer" local anesthetic agents to ensure patient comfort. We also utilize the "Intraligamentary Injection Technique" in "highly inflamed nerve" clinical situations.
Extractions In Full Mouth Reconstruction
In cases where teeth are not "savable", Extractions sometimes become necessary.
All extractions within the scope of Full Mouth Reconstruction are performed concurrently and on premises. As with Root Canal Treatment, this greatly adds to the efficiency and comfort in which our Full Mouth Reconstruction Cases are performed. In cases of Full Mouth Extractions, we are able to place an "Immediate Denture" the same day. This allows the patient to leave our office with dignity. After the extraction sites have healed (several months), Implants may be placed.
Periodontal Surgery In Full Mouth Reconstruction
Periodontal Surgery (in treatment of Periodontal Disease) is most efficiently and most effectively performed concurrently with Full Mouth Crown and Bridge. During the Crown Preparation Phase, Periodontal (Gum / Bone) access is optimized. For this reason, the long term prognosis of Periodontal Surgery is greatly enhanced when it is performed within the scope of Full Mouth Reconstruction. Osseous Surgery, Osseous Recontouring, Bone Grafting, Flap Surgery, and Gingivectomy are all performed concurrently within the scope of our Full Mouth Reconstructive Services. All of our Periodontal Surgery Techniques are performed with the patient's maximum comfort in mind (before,during,and after the procedure). A large percentage of Periodontal Disease Cases are actually caused by malocclusion.An  Improper "Curve Of Wilson" or "Curve Of Spee" can cause significant human bone loss. Also, conditions such as Deep Bite, and Bruxism can be highly damaging to the supportive bone. We are proud of our knowledge base in Full Mouth Reconstruction which comes from 30 years of practicing dentistry. We incorporate ideal design features into each and every case which remove the detrimental features which caused the initial dentition failure. After completed, we also provide a complementary Night Guard for an extra level retention and protection.
Full Mouth Reconstructive Dentist Boca Raton
Reconstructive Dentistry is Art an Engineering in its purest form. The process can be economically, comfortably, and efficiently performed if completely performed in one location. When the Reconstructive Process becomes segmented and referred out to multiple offices and providers, it becomes a monumental undertaking. After performing Full Mouth Reconstruction Cases for over 30 years we have streamlined the process. Most cases can be completed in only 4 appointments. We offer complimentary consultations for all Full Mouth Reconstructive Cases. Please see our "Before and Afters" section for examples of our work.